Task 3 – Capacity building & knowledge exchange
The next Thematic Workshop in the series, 'Working Together to Prevent Harm due to Alcohol in the Workplace', organised under the AlHaMBRA Project contract, will take place through 3 interlinked online workshop sessions on 12th, 17th & 20th May 2022, with the overall aim of exploring different actors' perspectives, priorities, barriers and solutions in designing and implementing effective action to tackle alcohol use and improve safety and health in workplaces at different policy levels (European, national and local) and across a variety of work settings and industries:
Session 1 –

 

Context and evidence for tackling alcohol in European workplaces
Session 2 –

 

Coordination for alcohol prevention at work – perspective exchange to overcome barriers
Session 3 –

 

Challenges in implementing alcohol prevention in work settings – moving towards EU recommendations
Outputs will include a peer-reviewed scientific summary; a set of short videos introducing the evidence and on-going European initiatives and experiences; and a workshop report, including recommendations for research and policy at the national and European levels.
Overview of the Thematic Workshops
Due to the current public health crisis and travel rescrictions to reduce the spread of covid-19, the workshop series has been revised. The new dates for workshops over 2020-2022 are as follows: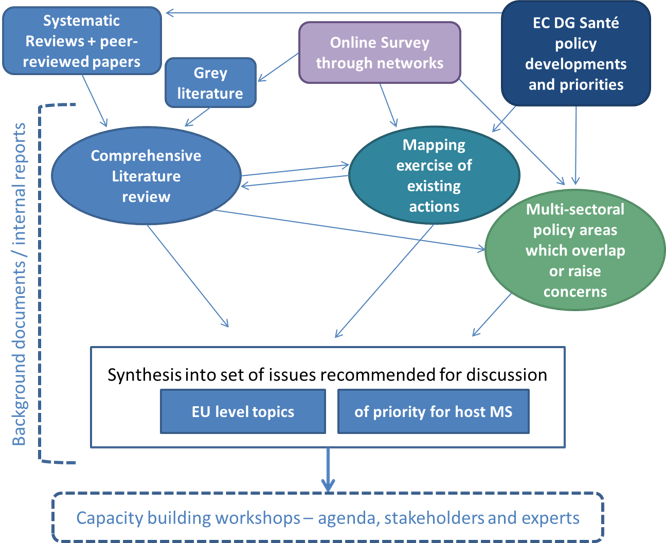 Procedure to develop the work
Task 2 of FAR SEAS will provide a common approach and methodology to support European Member States in knowledge gathering, sharing best practice and capacity building for evidence-based alcohol policy and harm-reduction across multiple sectors, adopting a health in all policies approach.
For this end, in collaboration with sister contracts, DEEP SEAS and AlHaMBRA Project, FAR SEAS will elaborate evidence-based briefing documents and organise multi-sectoral thematic workshops for knowledge exchange and capacity building, focusing on 3 specific policy topics related to alcohol:
Online Marketing
Cross-boder Purchases and Trade
Assessing National FASD Prevalence
The DEEP SEAS/FAR SEAS Mapping Exercise
As part of the development of the thematic documents and workshops, FAR SEAS has created a questionnaire designed to gather national-level input from stakeholders in many different sectors (policy, civil society, academia, research, clinical).
The second wave of the mapping exercise will soon be starting, including the opportunity to contribute to the agendas and policy areas for discussion in the workshop topics. 
Watch this space!